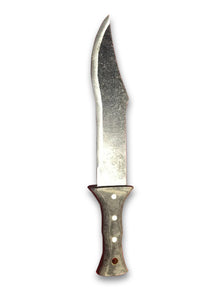 Mini-X Survival Dagger - ZGB
If you can't purchase it from this website, but it here: https://bit.ly/2VB9VS8
Can't get enough of the Executioner sword? Check out it's partner, the Mini-X!
The Mini-X is exactly one half of the original, but still possesses an insane amount of chopping power!
Chop wood with it, baton with it, or kill zombies with it — completely up to you.
Featuring a 10" inch, 1075 high carbon steel blade! Comes with Marcita handle and heavy duty nylon sheath. The power of the original Executioner sword in one hand!