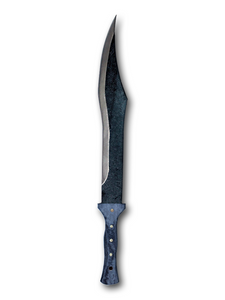 Executioner Sword 2.0 - ZGB
If you can't buy it on this website, you can purchase it here: https://bit.ly/2OhqoCF
This is literally the best sword we have ever used! Not just saying that because we designed it. Charles and I both agree that this is the easiest sword to use for ANY task. Whether it's killing zombies, or cutting wood down to size, there is nothing this blade won't humble. It can even break cinder blocks and remain perfectly fine. Designed by ZGB and manufactured by condor!
This work of art is made out of expertly heat treated 1075 High Carbon steel and features a convex grind for heavy cutting. Its full tang construction is encased in micarta scales, and the sturdy blade is 3mm thick! Its big belly can chop, slice, and wreck anything you put in front of it.
Comes with awesome nylon sheath.